Wanna Be Reality Superstar
totally made me a superstar today by granting me the following award!!!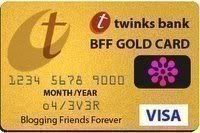 that i now pass on to
Auburn Kat
. She always has the most wonderful things to say! And I enjoy reading her blog.
Since I don't have as many "bloggy friends" as alot of other people I'm keeping it to 1 person for now -- hopefully my friends will expand even more and I'll get to share more love!!!
oh heck!
Bayjb
- you get the award, too! I love reading both of you blogs so much and I really absolutely enjoy your comments!